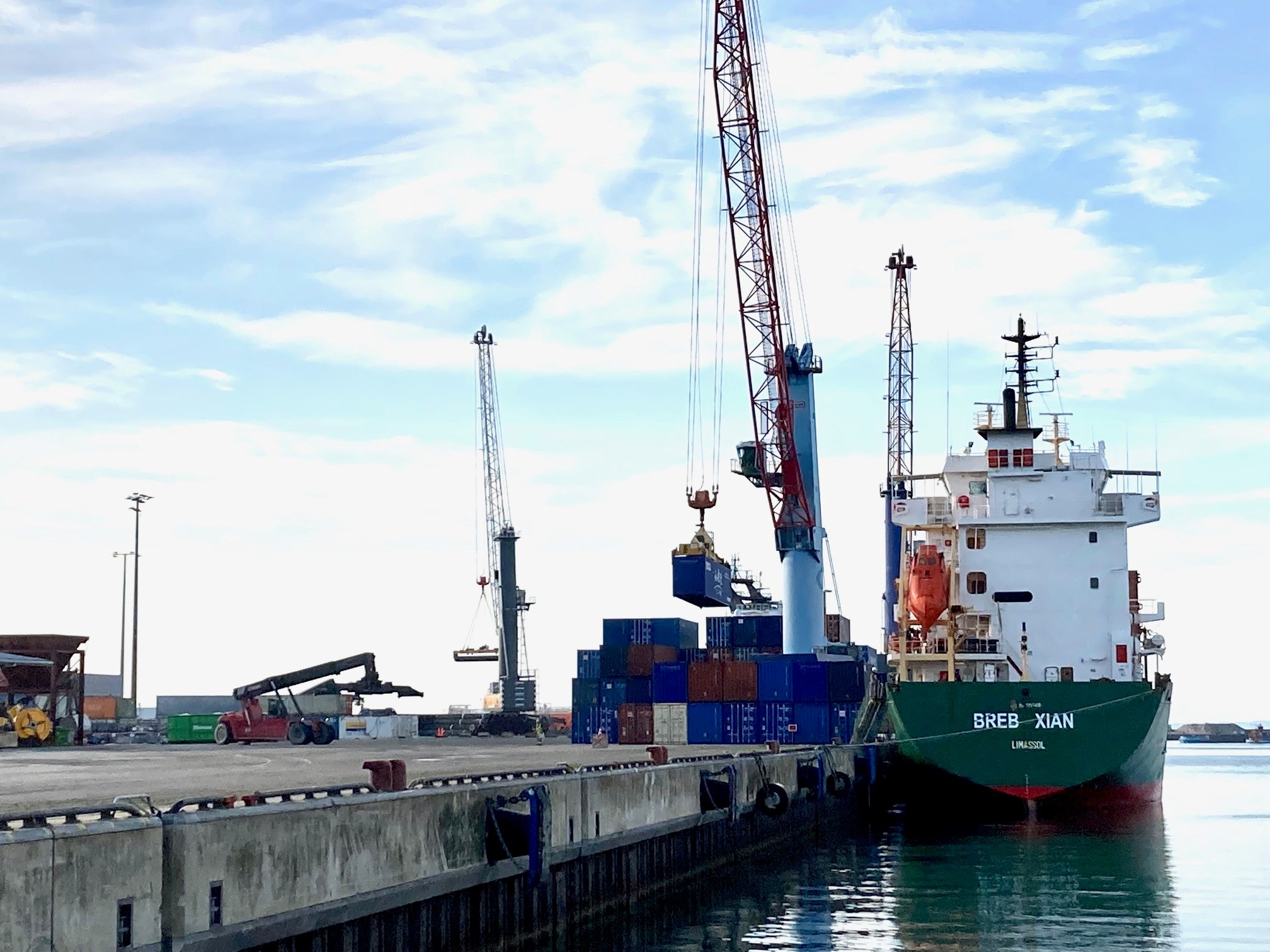 Ab Juli 2021 geht das Schwesternschiff der BREB MUKRAN als drittes Schiff im Linien-dienst der neugegründeten Baltic Sea Bridge GmbH in Einsatz. Die BREB XIAN wird neben der BREB MUKRAN und der BREB BALTIYSK die Ostseehäfen Baltiysk und Mukran verbinden, mit nun auch weiterführenden Anbindungen nach Skandinavien und UK.
Die unter dem Namen "Baltic Sea Bridge" in der Ostsee angebotene Seeroute der Mukran Port Terminals und der Bahn Operator GmbH verbindet seit März 2020 Asien und Europa durch die "Neue Seidenstraße". Weitere Partner sind die Reederei BREB GmbH &Co. KG, die den Seetransport für Baltic Sea Bridge durchführen und die Eisenbahngesellschaft Potsdam (EGP), die für die Bahntransporte innerhalb Deutschlands zu den Güterdrehschei-ben verantwortlich ist. Die UTLC ERA Eurasian Rail Alliance, übernimmt die Traktion des Schienenverkehrs auf der Breitspurschiene zwischen Kasachstan und Deutschland.
Nach einem sehr erfolgreichen ersten Jahr 2020 in dem ca. 30.000 TEU auf der Route Xi'An/China -Mukran/Deutschland transportiert wurden, haben sich die Partner Anfang die-sen Jahres dazu entschlossen, die Baltic Sea Bridge GmbH zu gründen, um die Synergien und Erfahrungen aller in einer eigenständigen Gesellschaft zu bündeln. Von anfänglich einem Vollzug in der Woche mit einem Schiff, sind die Abfahrten mittlerweile auf vier Vollzü-ge in jede Richtung (zum Teil auch XL-Züge) mit zwei Schiffen gestiegen. Somit konnten 2021 bereits knapp 45.000 TEU in Mukran umgeschlagen werden. Mit 40,000 TEU ist die Baltic Sea Bridge GmbH mittleiweile in Baltiysk das Unternehmen mit den meisten Abfahrten pro Woche.
Der schnelle Transportweg von 12 Tagen und die zuverlässige Anbindung der Baltic Sea Bridge an die Neue Seidenstraße, haben die Nachfrage rasant ansteigen lassen. So muss im Juli 2021 mit der BREB XIAN ein drittes Schiff eingechartert werden, um weitere Destina-tionen in Skandinavien und UK anzubinden. Zudem wird auf der chinesischen Seite der Seidenstraße in Zukunft neben Xi'An zusätzlich Wuhan bedient.
(EN) From July 2021, the sister ship of mv BREB MUKRAN will start as the third vessel in the liner service of the newly founded Baltic Sea Bridge GmbH. BREB XIAN will join mv BREB MUKRAN and mv BREB BALTIYSK in connecting the Baltic ports of Baltiysk and Mukran, with the service now extending to Scandinavia and the UK.
The sea route offered under the name "Baltic Sea Bridge" in the Baltic Sea by Mukran Port Terminals and Bahn Operator GmbH has been connecting Asia and Europe through the "New Silk Road" since March 2020. Other partners include the shipping company BREB GmbH &Co. KG, which provides sea transport for the Baltic Sea Bridge, and Eisenbahngesellschaft Potsdam (EGP), which is responsible for the rail transport within Germany to the freight hubs. UTLC ERA Eurasian Rail Alliance, takes over the traction of rail transport on the broad-gauge rail between Kazakhstan and Germany.
After a very successful first year 2020 in which approx. 30,000 TEU were transported on the route Xi'An/China -Mukran/Germany, the partners decided at the beginning of this year to establish the Baltic Sea Bridge GmbH in order to bundle the synergies and experience of all in an independent company. From initially one full train per week with one ship, the departures have meanwhile increased to four full trains in each direction (partly also XL trains) with two vessels. As a result, almost 45,000 TEU could already be handled in Mukran in 2021. With 40,000 TEU, Baltic Sea Bridge GmbH is now the company with the most departures per week in Baltiysk.
The fast transport route of 12 days and the reliable connection of the Baltic Sea Bridge to the New Silk Road, have caused demand to increase rapidly. As a result, a third vessel, mv BREB XIAN, has to be chartered in July 2021 to connect additional destinations in Scandinavia and the UK. Furthermore, on the Chinese side of the Silk Road, Wuhan will be served in addition to Xi'An in the future.
Cuxhaven, 07.07.2021.