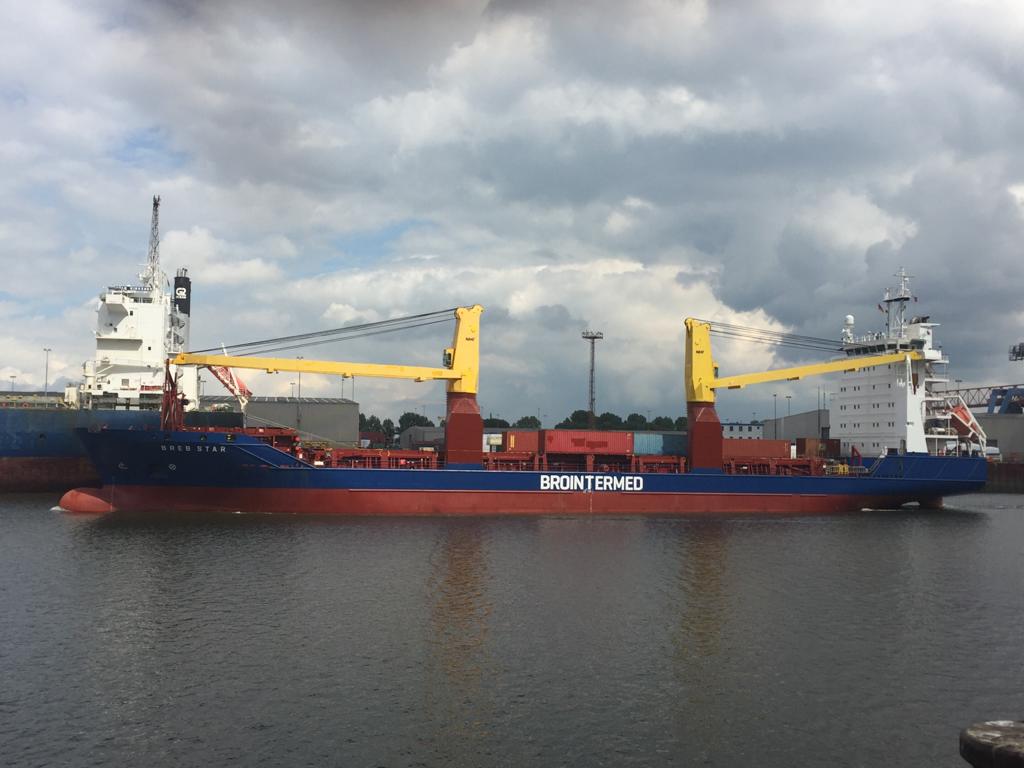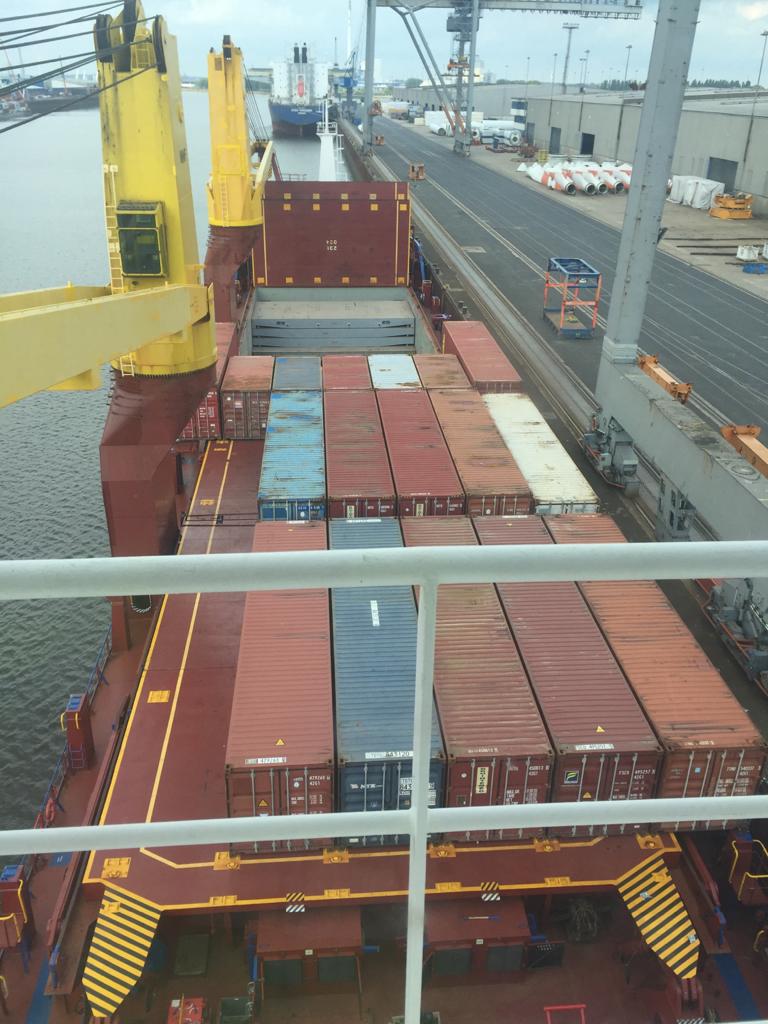 Cuxhaven/Genoa, 24.07.2020
Brointermed and BREBs new project: BREB STAR
We are proud to announce that Brointermed and BREB, who for several years have been operating their separate liner services from the Continent to the Mediterranean, have decided to join their operational forces and agreed on a vessel sharing agreement effective as from the end of July 2020. This offers a monthly dedicated multipurpose service linking Bremen, Harwich, Antwerp and La Spezia to the main Algerian and Libyan ports and vice versa. The first sailing will be performed by m/v BREB STAR, exclusively hired to this new service, sailing on her maiden voyage from Bremen on the 25th of July.
The two companies expect that this new initiative will generate additional synergies both south and north bound and will soon enable them to increase the frequency of their services by adding a second similar vessel.
"The cooperation with Brointermed fits perfectly to our conventional Liner-Service BREB CONTINENTAL LINE and offers new opportunities to our clients. With the experience of three successful voyages this year with different ships, we are pleased to introduce BREB STAR as dedicated vessel for this service. We are sure that the future cooperation with Brointermed will be beneficial for our customers." Arne Ehlers, Managing Director BREB GmbH & Co. KG.
Brointermed Lines ltd is one of the leading shipping lines serving North Africa and East Med from the North Continent, UK, Portugal, and Mediterranean ports. The service started from the early 80's to Libya, nowadays Brointermed lines serves the ports of Algeria, Libya, Malta, Egypt, Lebanon and Turkey on a regular basis. The vessels employed are fully equipped with ships cranes up to 200 mtons lifting capacity, tween decker's and professional trained crews, thus being able to handle anything from one small package of 1 kilo up to big and heavy pieces. Brointermed Lines operates the service with Hugo Trumpy Group Genova as general agents and benefits of a competent agency network based on owned offices.
BREB GmbH & Co. KG, arose from Bremer Reederei Eilemann & Bischoff GmbH, established 1951 in Bremen. Since 2014 the company headquarters are located in Cuxhaven, with additional offices and staff in Bremen, Lisbon, Sassnitz and Zeebrugge (BREB Belgium). BREB is a highly diversified Shipping Company with own Fleet-, own Chartering-, Port Agency- and Port Logistics-division. They provide their clients with effective, custom-tailored, and affordable sea transportation, employing a fleet of the newest highly sophisticated geared, box-shaped, open hatch vessels from 4.000 – 9.000 tons cargo capacity. The vessels operate in three Liner Service around Europe.
(DE) Brointermed und BREBs neues Projekt: BREB STAR
Brointermed und BREB, die seit mehreren Jahren separate Liniendienste vom Kontinent ins Mittelmeer betreiben, werden zukünftig ihre Aktivitäten bündeln und haben dazu ein Vessel Sharing Agreement vereinbart. So werden monatliche Abfahrten für Schwergut, Container und Stückgut ab Bremen, Harwich, Antwerpen und La Spezia zu den wichtigsten algerischen und libyschen Häfen (vice versa) angeboten. Die erste Reise unter dieser Vereinbarung wird von der m/v BREB STAR durchgeführt, die exklusiv in diesem neuen Dienst eingesetzt wird und am 24. Juli von Bremen aus versegelt.
Die beiden Unternehmen erwarten, dass diese neue Kooperation zusätzliche Synergien für Verschiffungen sowohl süd- als auch nordgehend schafft. Mit einem weiteren typgleichen Schiff kann die Abfahrtsfrequenz erhöht werden so die Planung.
"Die Zusammenarbeit mit Brointermed passt perfekt zu unserem konventionellen Liniendienst BREB CONTINENTAL LINE und bietet unseren Kunden zusätzliche Verschiffungsmöglichkeiten. Mit der Erfahrung von drei erfolgreichen Einzelreisen in diesem Dienst in 2020 freuen wir uns, die BREB STAR langfristig in diesen Dienst einzubringen." Arne Ehlers, Geschäftsführer BREB GmbH & Co. KG.
Brointermed Lines Ltd. ist traditionell eine der führenden Reedereien im Nordafrikaverkehr und verbindet Nordafrika und die Levante mit dem Nordkontinent, Großbritannien, Portugal und italienischen Häfen. Der Service begann in den frühen 80er Jahren nach Libyen. Heute bedient Brointermed Lines regelmäßig die Häfen von Algerien, Libyen, Malta, Ägypten, Libanon und der Türkei. Die eingesetzten Schiffe sind mit Bordkränen bis zu 200 Tonnen ausgerüstet und verfügen über Zwischendeck. So kann von der kleinsten Stückgutpartie bis hin zu großen Anlagenteilen jeder Kunde bedient werden. Brointermed Lines betreibt den Service mit der Hugo Trumpy Group Genua als Generalagent und profitiert von einem kompetenten Agenturnetzwerk mit vielen lokalen Büros.
Die BREB GmbH & Co. KGentstand aus der 1951 in Bremen gegründeten Bremer Reederei Eilemann & Bischoff GmbH. Seit 2014 befindet sich der Firmensitz in Cuxhaven, weitere Büros und Mitarbeiter in Bremen, Lissabon, Sassnitz und Zeebrugge (BREB Belgien). BREB ist eine stark diversifiziertes Schifffahrtsunternehmen mit eigener Flotte, eigener Charter-, Hafenagentur- und Hafenlogistikabteilung. Sie bietet ihren Kunden einen effektiven, maßgeschneiderten Seetransport mit einer Flotte moderner Multipurpose-Schiffe mit einer Ladekapazität von 4.000 bis 9.000 Tonnen. Die Schiffe verkehren in drei Liniendiensten um ganz Europa.
Blog
Press Release